How to Send an E-Sign Follow
The Law Ruler system includes a ready-to-use integration with the #1 E-Sign provider, HelloSign. Your firm can start sending out text message/email e-sign retainers right away. Law Ruler's embedded version of HelloSign has significant time savings where it only takes seconds to fill in client information from the database and send it to your recipients via text message and email.
To get started, first navigate to the intake and/or case record you wish to send an e-sign to. Next, navigate to the "E Sign" tab at the top of the record.
Under this tab, you will be able to select any of the available e-Sign templates to send for signing. If you are using the recommended HelloSign service, under the "E-Sign Documents" section, you will see a "Select Recipients" button for each template. Click that button to confirm the recipients (by default, the system will pull in the Primary Contact's name, phone number, and email address but you will have the option to modify this before sending out the contract). When you're ready to send the document for signing, click on the "Send E-Sign" button.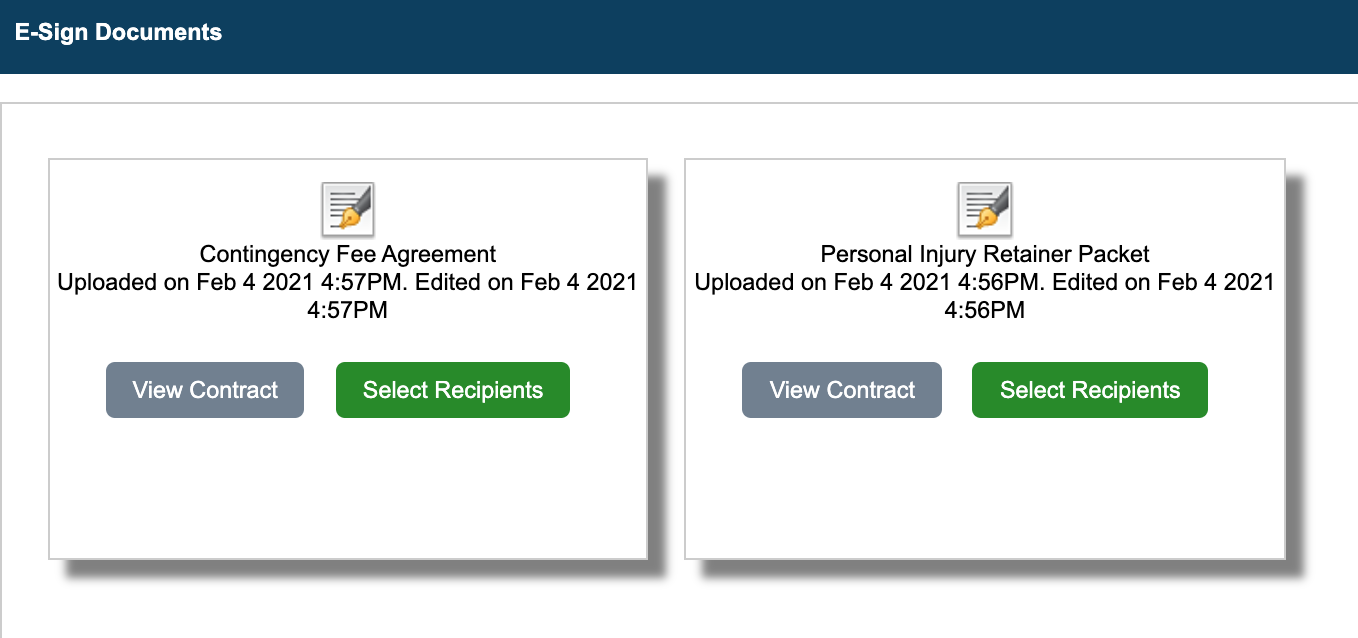 Once an e-Sign has been sent, you can keep track of the signature request's status under the "E-Sign Status" section. Under the "Envelope Status" column you will be able to see once the recipient has viewed the e-Sign document and when they've submitted a signature. All signed contracts are automatically pulled back into Law Ruler and can be found under the "Documents" tab in the Lead/Case records.




To learn more about creating e-Sign templates, please click here.