Accessing Financial Transactions in the Bank Transactions Screen (Cases Only) Follow
Law Ruler cases have financial data available for users that have the proper access permissions. This article will focus on how to access financial transactions in the Bank Transactions area of a case.
Authorized accounting users will be able to create and view bank transactions for each case such as deposits, credits, adjustments, and transfers. The Bank Transactions screen only exists inside of Law Ruler cases and not inside of the lead/intake screens.
⚠️ You must be a user with Accounting or admin access, or you will not be able to see the Bank Transactions menu option. Please ask your firm administrator or IT department if you need assistance.
If you need to enable one of your users for accounting access, then an admin user must go to:
Manage Users > Add/Edit User > Is this user enabled for Accounting? (Check the box to allow access)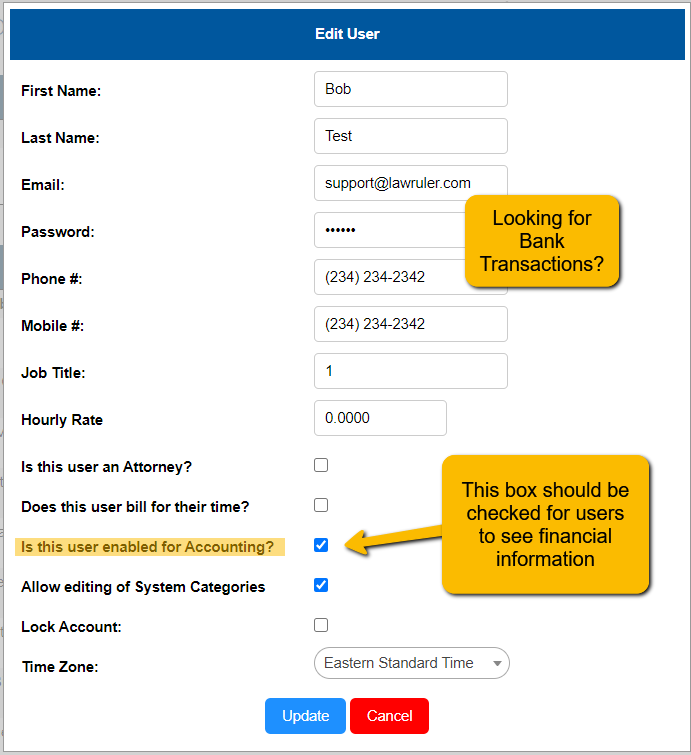 Support/Assistance
If you need further assistance, then please contact Law Ruler Support to assist you further.
🤗 Thank you very much for choosing Law Ruler!