Setting Up and Editing Customized Intake Forms & Questionnaires – Drag and Drop Follow
Setting Up and Editing Customized Intake Forms & Questionnaires. Law Ruler Software has a powerful custom intake workflow solution that allows you to create and edit a customized intake questionnaire for each Type of Case or docket that your firm is handling. Any docket and any type of intake question is easily handled in Law Ruler. Let's start by going to the "Intake Forms" management screen.
Click on the "Settings" blue menu as shown below, and select "Intake Questionnaires" to begin.

To begin creating your first Intake Form / Questionnaire, click the "Select Case Type" dropdown to choose the docket for which you are building a custom intake form as shown below.
Law Ruler includes pre-made widgets to save you time, such as "Contact Information" that includes Full Name, Complete Address, Phone Numbers, Email, and Company Name.
Or, Law Ruler allows you to choose from several different types of formats, (Single Line Text, Paragraph, Dropdown, Yes/No, Pick List, Radio Button, Date, Time, Phone, SSN, EIN) for your intake questions.
Select one of the 11 types of question formats (Single Line Text, Paragraph, Dropdown, Radio, Pick-List/Multi-Select, Date, Time, Phone, etc.) to get started.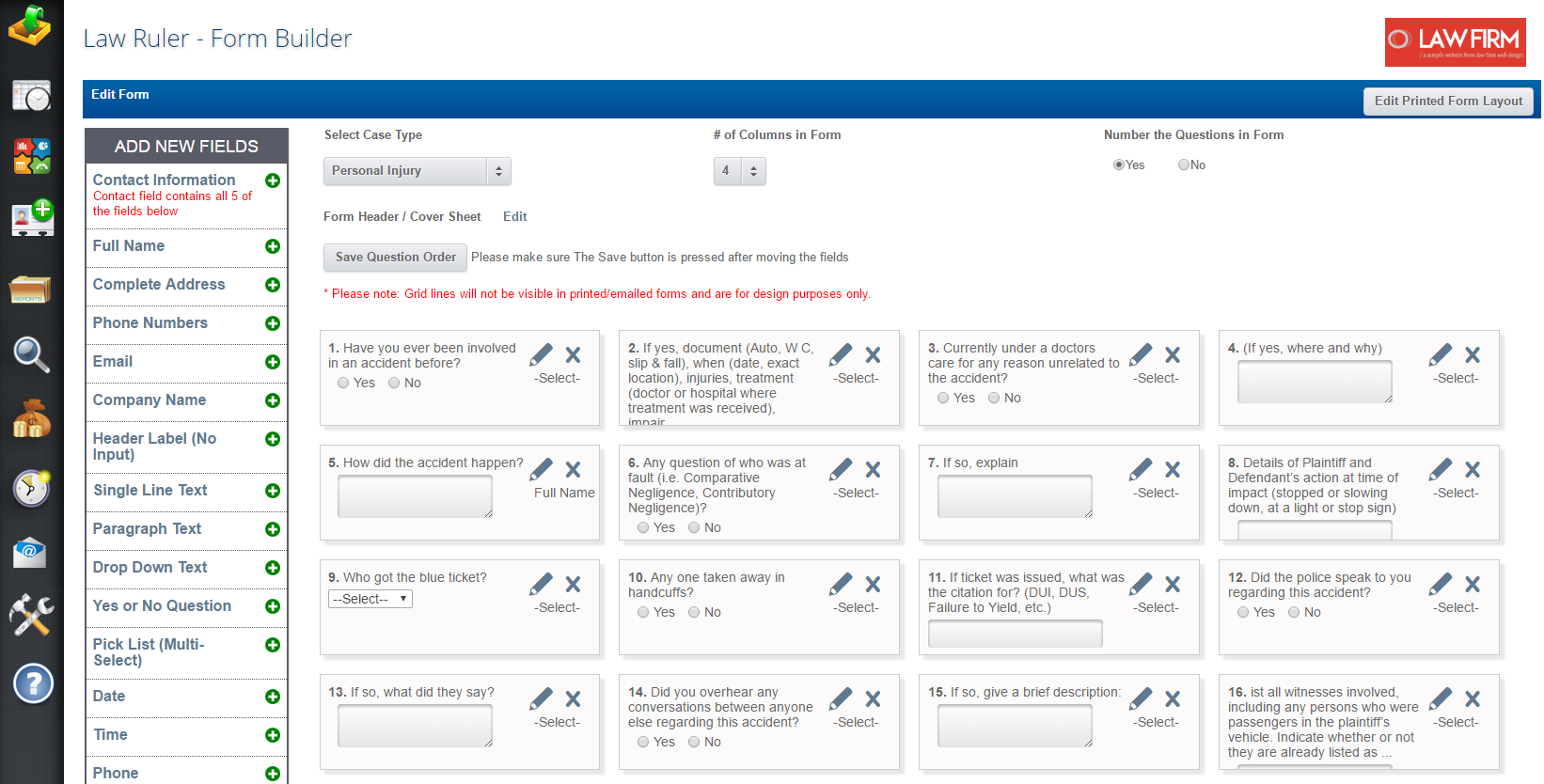 Try out all 11 different types of formats to find the most suitable one for each type of question that you may ask.
The "Single Line Text" is for shorter reply questions such as "What body part was injured?"
The "Paragraph" for longer questions such as "Describe your incident for me."
The "Radio Button" is for Yes/No Questions Only.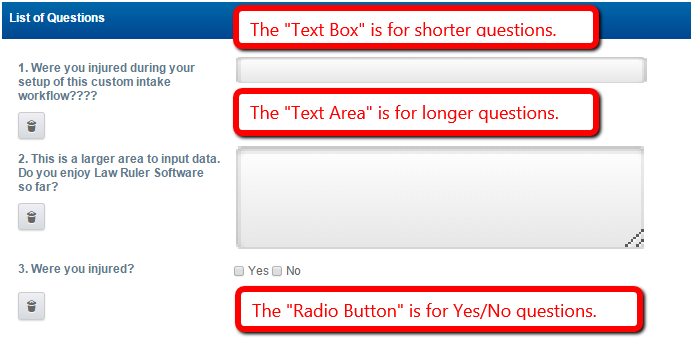 After selecting a Case Type, and a "question format," then please left-click in the box with your mouse, where it says "Type your Question here?" and begin by typing your first question, and press the "Save" button below.
After entering your question, and pressing "Save," each question that you customize for your intake workflow will go here below in the "List of Questions" area below, so you can see the changes that you make as you edit the questionnaire form.

Please Note: make sure that you map each question to a field in Law Ruler if you are going to create your own questions and not use the ready-made widgets.

If you need to delete any of the questions that you setup, then you need to press the "Delete" icon as shown below.
Please Note: It is not recommended and Law Ruler Software will not let you delete a question if you already have lead records with data in them. You may change questions at any time, but deleting the data requires contacting Law Ruler Support at support@lawruler.com.