Law Ruler's Email Pairing feature is compatible with most major e-mail solutions including, but not limited to:  Microsoft Office 365, Gmail, Yahoo, AOL, etc. 
This will allow you to compose and save the content of e-mails directly to leads using Law Ruler's "Compose E-mail" button.
You only need to pair your E-Mail Account with Law Ruler one-time (unless you change your password for your E-Mail Account, then you will need to update it later).
How to Pair Your E-mail with Law Ruler:
Click the gear icon in the top-right corner of the blue-menu on the right-side as shown below: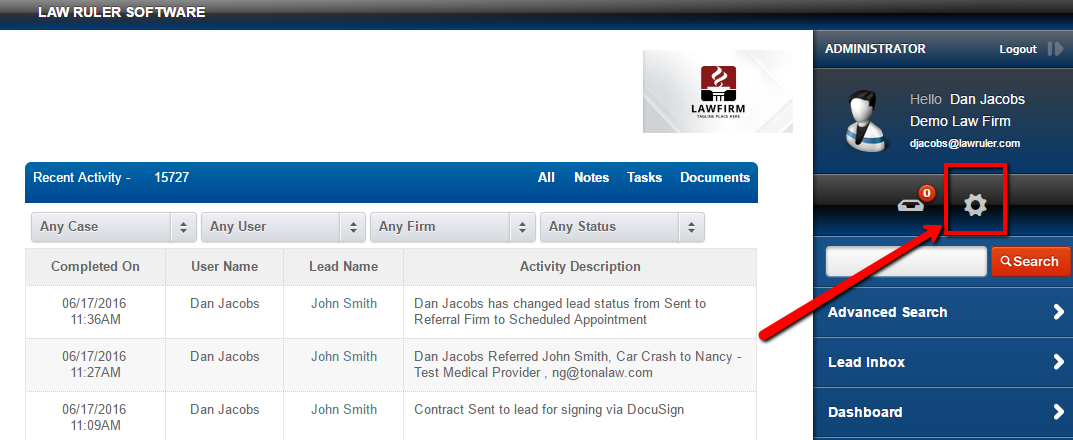 Enter your E-mail Address and password for your e-mail account.
Select the E-mail Type from the Dropdown Menu as shown below:
Press the "Save" button to Test Your E-Mail Settings. If it is successfully paired, then you will receive an on-screen messaging that says it was successful.  If you receive an on-screen message that says it has Failed to Connect, then you may have entered the incorrect E-Mail Address or incorrect E-Mail Password.  Please try again until it pairs successfully, or you will not be able to use this feature.
You may also add an E-Mail signature that will be appended to all outgoing mail that you Compose from Law Ruler. You can create a new E-Mail signature just for Law Ruler, or you can Copy/Paste your E-Mail signature from your existing E-Mail Account outside of Law Ruler.