New Lead/Call Distribution, Configuring Settings and Notifications for a Single User(Small Firms) or a Group/Queue of Users(Medium-Large Firms) Follow
Law Ruler can be used to automatically distribute new leads/calls to a single user or have all new leads Unassigned for group/queue usage.
For smaller firms, you will want all new leads/calls to be assigned to your intake specialist or admin who is responsible for handling all incoming inquiries.
For medium to larger firms, you will want lead/call distribution to have all new leads arrive as "Unassigned" as they arrive into the Lead Inbox, but notify a group/queue of users as they are created. The way this would work is to have all new leads route to an "Unassigned" user.
Your intake group/queue of users can then click on the "Assign to Me" link in the Lead Inbox next to each lead and it will instantly assign the lead to them so others will see that lead as already Assigned.
In the future, Law Ruler will be offering an add-on module for Call/Contact Center environments that will offer ACD (Automated Call/Lead Distribution) based on the availability of staff and route calls and leads based on the skills of each agent.
How to Configure New Call/Lead Distribution and Notifications:
From the "Settings" blue menu, please click on the "Global Settings and Notifications" menu button to open the "Global Settings and Notifications" menu as shown below.
In this settings page, you can turn On/Off SMS Text Notifications for New Leads as they are created. SMS Text New Lead Alert Notifications are optional. However, E-mail New Lead Notifications are not optional and are necessary for proper Law Ruler use.
A) Single-User Automatic New Lead Distribution to 1 Person
Scroll down to the tab that says "Import Settings for Leads imported"
Choose the default user that will be responsible for all new leads/calls that Law Ruler will assign as the default Lead Owner and Lead Assignee for all new leads that will be created in Law Ruler:

A) Call Groups and Queues – How to Handle New Lead/Call Distribution
Law Ruler can also support lead/call distribution to a group/queue of users. The way this would work is to have all New Leads route to an "Unassigned" user. Please review screenshot below of how to configure it this way:

Then, you must add all users in your group/queue to the List of Users to be notified for new leads, and decide if you want them receiving New Lead Notifications via E-mail and/or SMS Text Messages. You can add as many or as few users as you like here.
a) Click on Settings > Case Types, and Configure as Needed so All of Your Users/Queue get notified when new leads/calls arrive. Hint: You may add Law Ruler users or external mobile numbers/email addresses as well: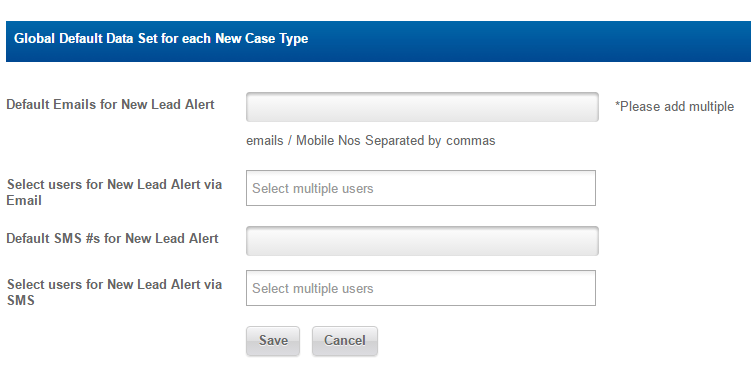 The concept is that each user will "grab" the lead(s) they are going to handle from the Unassigned queue of leads in the Lead Inbox, yet everyone will be notified as new calls/leads arrive into the Lead Inbox.

You can also activate "Snooze Campaign Settings" here that will allow you to hold all SMS Texts and E-mails during non-business hours so they do not go to leads during inappropriate times, and will resume when the business opens in the morning, thus sending at that time.
By scrolling down you will see options to Add/Edit Statuses as shown on below.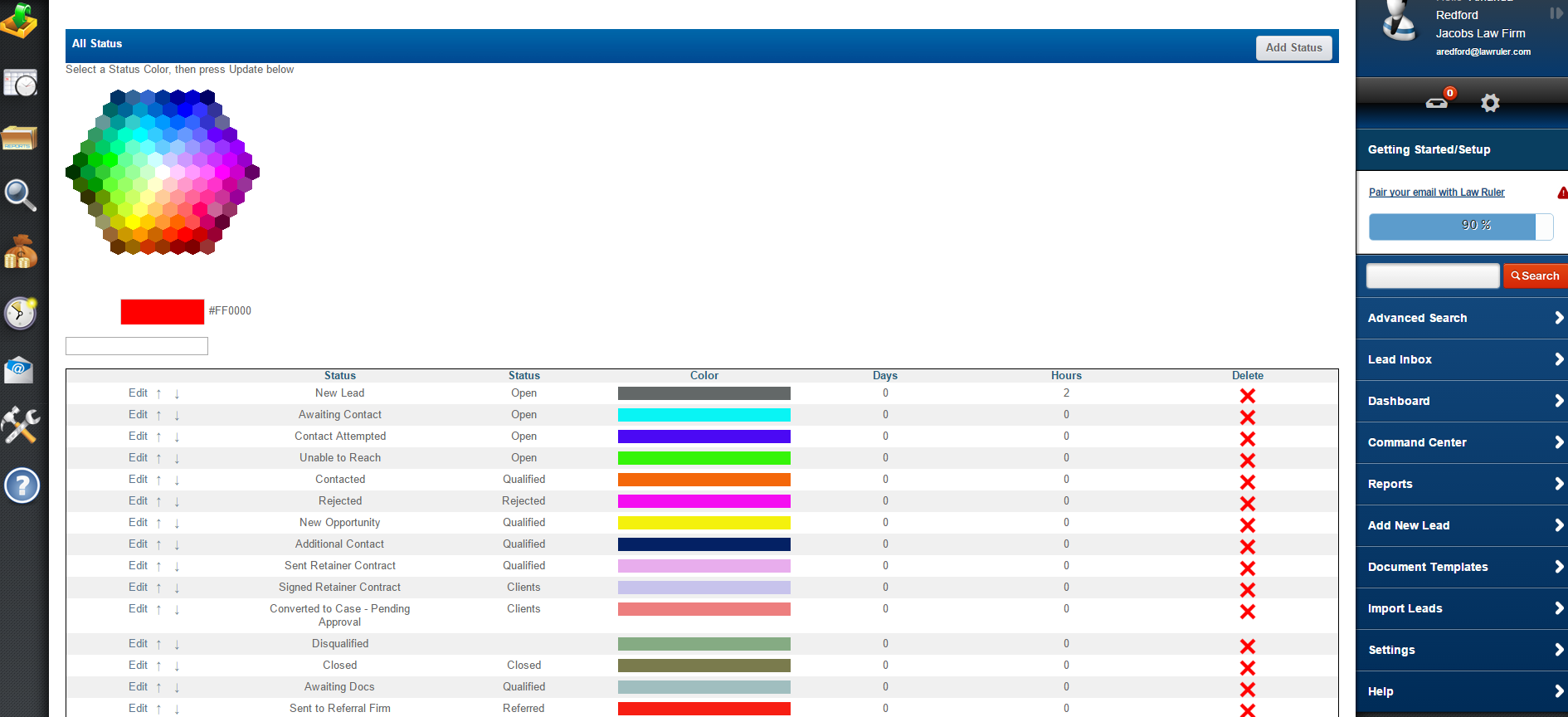 Next, you will see "Timer Settings" and "Import Settings"
Note: Click here to see how our "Traffic Light Reminder System" works.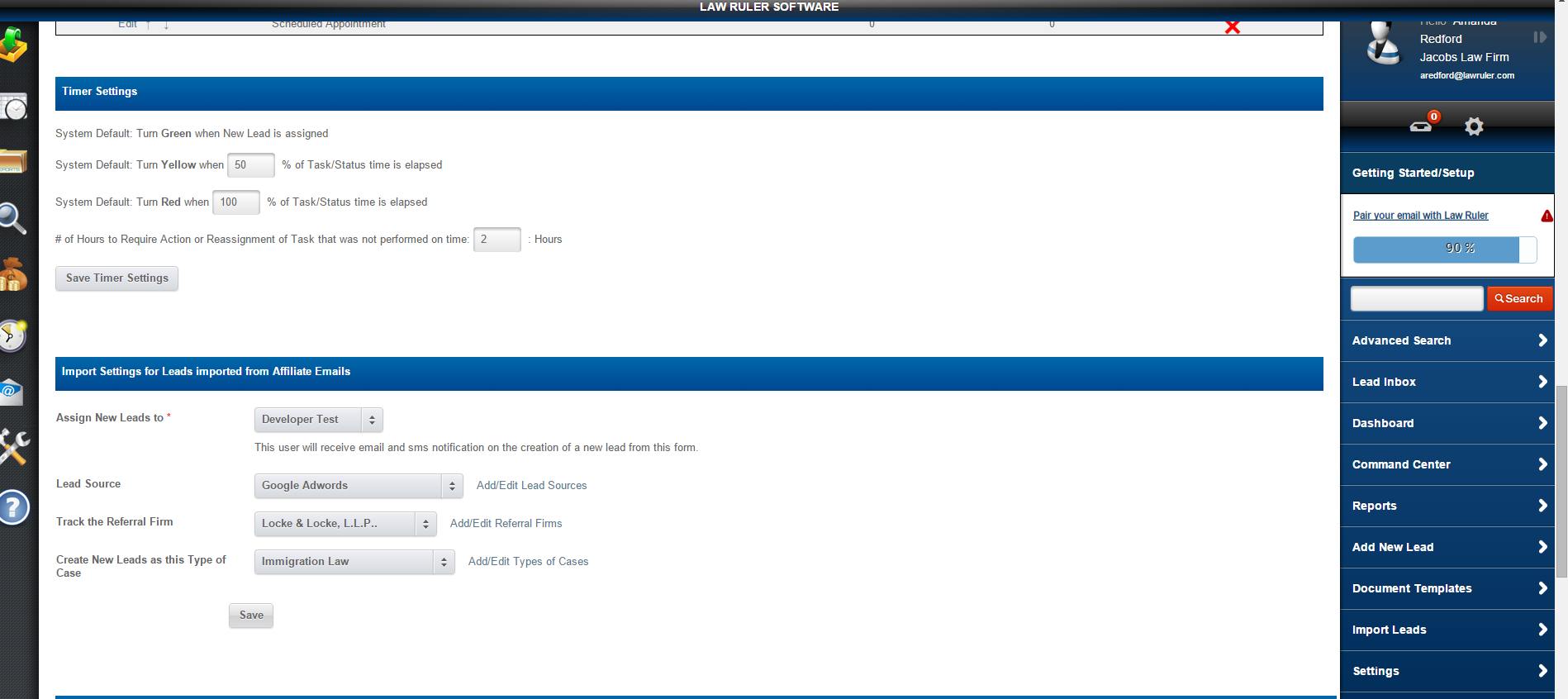 Last, you will see "Other Global Settings", "Convert to Case Settings" and "VOIP Settings"
You can edit these settings based off the needs of your firm.