New Sign In Detected - Why Am I Getting This Email? Follow
**This article only applies to the Law Ruler and Tabs3 version of Legal CRM**
As your trusted CRM software provider, Legal CRM has various tools to enhance security. With cyber-attacks on the rise in today's society, the more security, the better. Email passwords by themselves are considered safer with Two-Factor Authentication (2FA) enabled. Also, each customer should consider enabling IP Address Restriction as another tool available to enhance security in their system.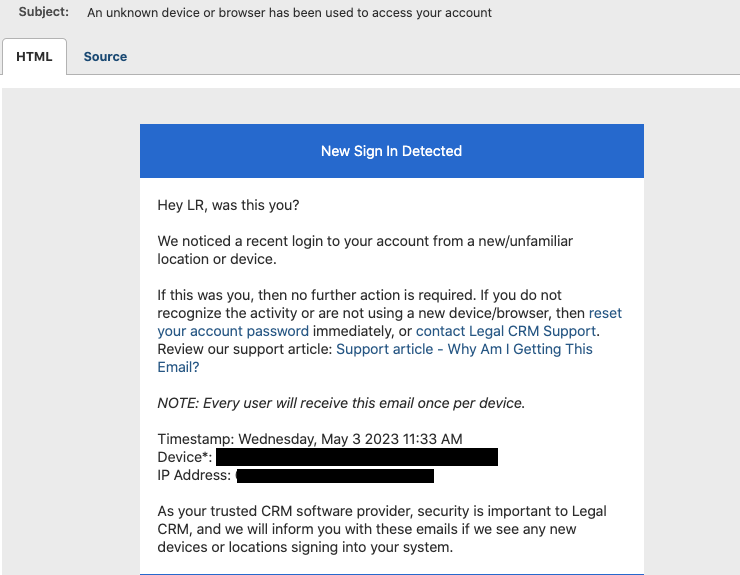 New Sign In Detected - Why Am I Getting This Email?
This warning will be triggered for various reasons, some of them are expected in the ordinary use of the system, while others may be a potential concern. Let's walk through most of the scenarios:
In late October 2021, the New Sign-In notification feature was released to all customers - all users will initially receive this notification once per device since device information is now being tracked as a security feature.

This is a new feature so everyone will see these emails at least once.

Likely, it should not be a cause for concern because device tracking is a new feature. However, if you continue to see these notifications and you are not changing devices, then you should change your password immediately and follow the other security recommendations in this article.

⚡ NOTE: Any new device or IP Address that signs in to a user account will receive an email as a security precaution. Some users have dynamic IP Addresses so they may receive this email if their IP Address changes each time they sign into the system.
A User is Logging in From Multiple Devices or Locations (Work + Home) - this condition is expected in today's work environment where some users are working virtually or on hybrid work schedules, for example, a user may work in an office part of the time and at home the remainder of the time. This could also be triggered if a user logs in on multiple devices. These use cases are all supported under Legal CRM's Terms of Service.


Multiple Staff Members are Sharing the Same User Account - this condition is not expected as that it is disallowed per Legal CRM's Terms of Service. It is important that each user purchases their own user account to ensure an optimal user experience and proper licensing.


A User's Account Password is Potentially Compromised - this condition is not expected. Changing passwords regularly and using strong passwords that are over 8 characters long with numbers, symbols that are not easily guessable is highly recommended.

Each user should consider implementing the following security practices:

Secure each of your devices that is used to sign into the system.
Regularly scan each device for malware.
Keep your password secure. If you feel that your password may be compromised, then change your password immediately.
Use strong passwords. What is a strong password?
Implement Two-Factor Authentication (2FA) and ensure that the mobile number that you use is the correct one. Your account administrator could assist with this process and update the mobile number of each user that will be used in 2FA.
Implement IP Address Restrictions - this will allow your firm to restrict login to only known IP Addresses, for example, your office IP Address or each employee's IP Address or IP Range. You could also block certain IP Addresses or Ranges from signing in to the system.
Support
Support questions? Please contact Legal CRM support. We are happy to help!