Legal CRM Chat GPT Integration Follow
We are excited to introduce our new chat GPT feature, a cutting edge AI-powered chatbot that can enhance the way you interact with your clients and provide support. With this innovative technology, you can receive instant responses to common questions and concerns. We believe that this feature will revolutionize the way you communicate with your clients and enable you to provide an even more personalized and efficient service.
In this guide, we will show you how to set up and configure ChatGPT to work seamlessly with your Legal CRM program. We will also provide best practices for using ChatGPT to its full potential, enabling you to provide exceptional service to your clients, manage your workload more efficiently, and ultimately grow your law firm's business.
So, whether you're new to Legal CRM or looking to take your service to the next level with AI-powered chatbots, let's dive in and explore how ChatGPT can transform the way you communicate with your clients.
How to enable the ChatGPT Integration
Additional examples to best use the ChatGPT integration!
Frequently asked questions about ChatGPT
How to enable the ChatGPT Integration
First, in order to activate ChatGPT, your administrator needs to activate it for your team. This can be done under Setup: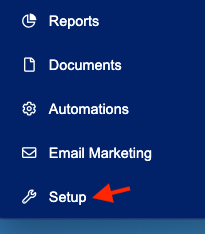 Then, select Global Settings and Statuses here: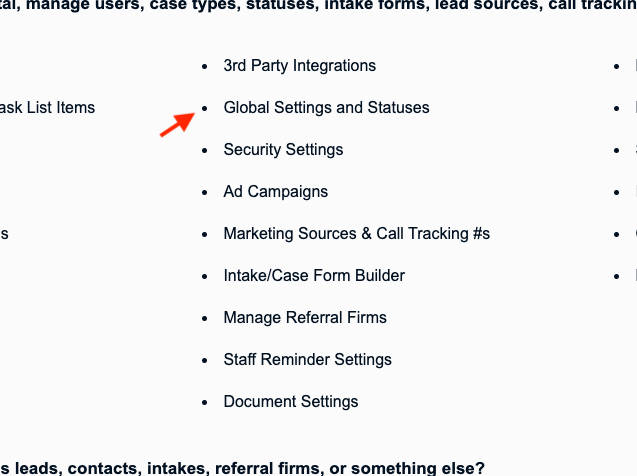 Then simply click this dial right here to turn ChatGPT on or off and hit Save to continue.


Users can turn ChatGPT on or off individually within their User Settings here: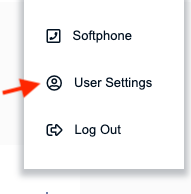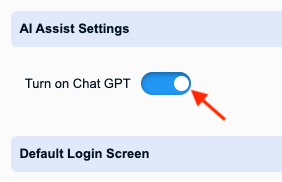 Now that ChatGPT is activated, there are just a few more things to address, on your main screen, you will see a small blue circle appear like this: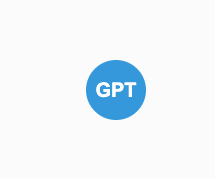 If you click on this circle for the first time, you may see a legal addendum like this: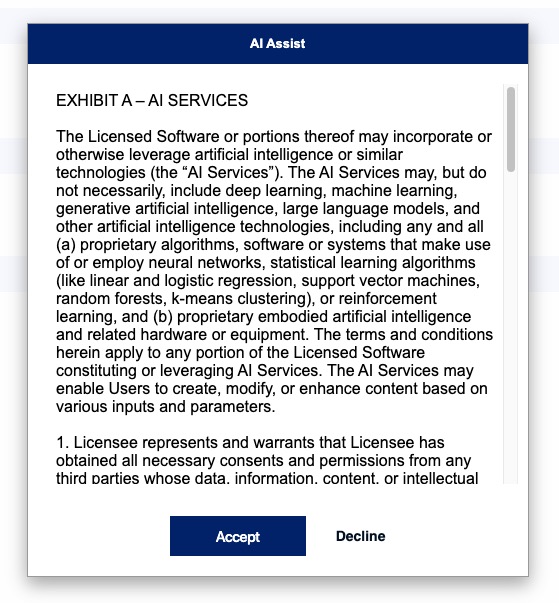 Make sure to accept our terms and conditions from this prompt because you will not be able to use ChatGPT until this has been done. You can decline these terms but this simply means that you and your team will not be able to use ChatGPT until these terms have been accepted.
This legal addendum, typically, will show up when you click on the blue circle or if you navigate to the global settings menu, if it has not been clicked on already.
This blue circle can be moved anywhere on your screen. Feel free to move it to a spot that works for you.



Now that all of the official stuff has been taken care of, let's begin using ChatGPT. Click on the blue circle to bring up ChatGPT properly.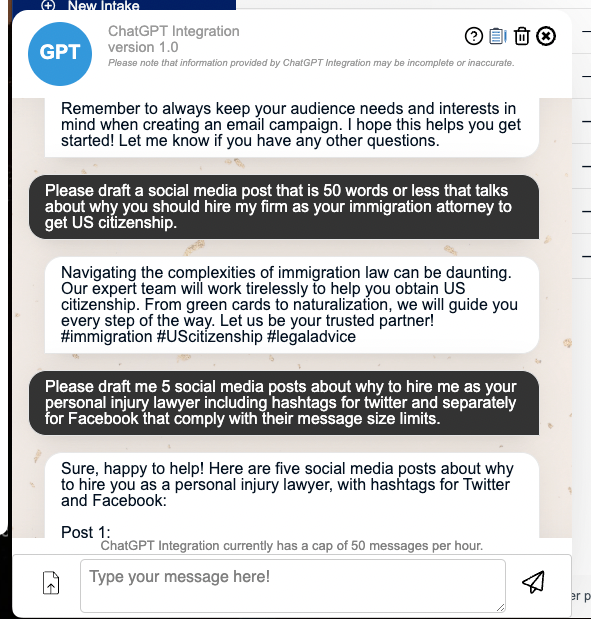 You can ask ChatGPT anything, from how to make a dessert to anything in your profession.
Here is an example of an answer you can potentially get.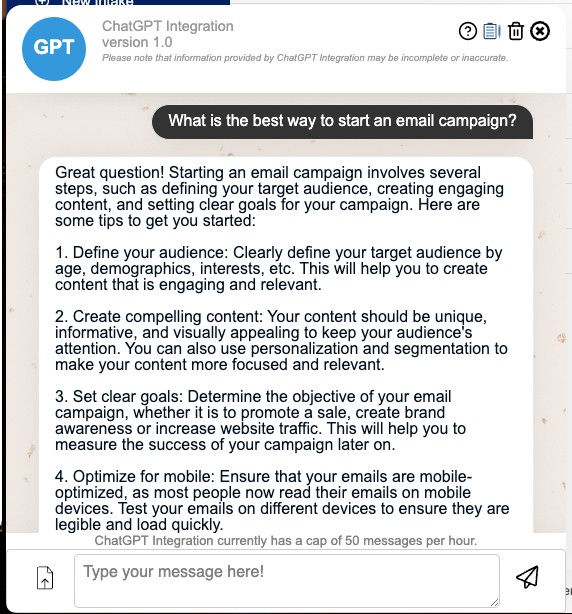 You can also ask ChatGPT about how to use the system and troubleshoot issues!(NEW)
ChatGPT is now programmed to answer any question about any feature of the Legal CRM. It will pull results from the CRM knowledge base!
Here are some examples of asking a product related question.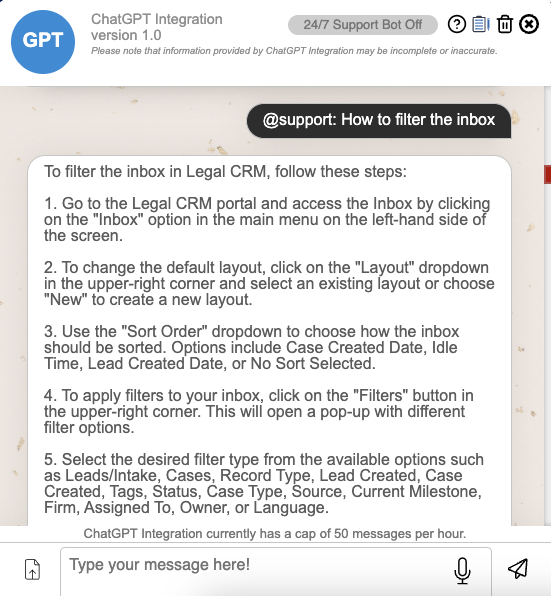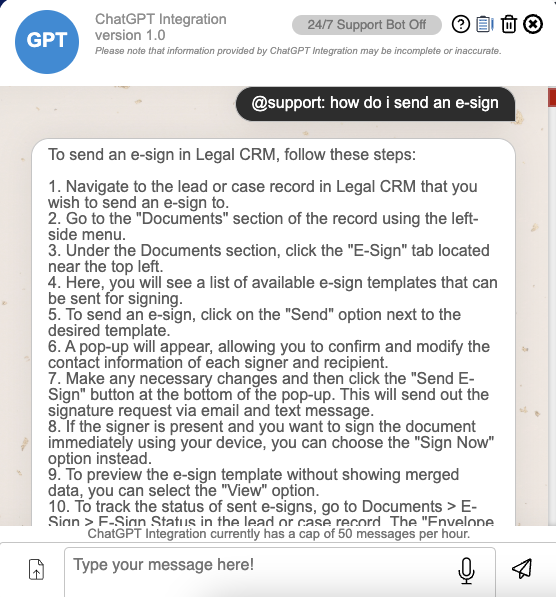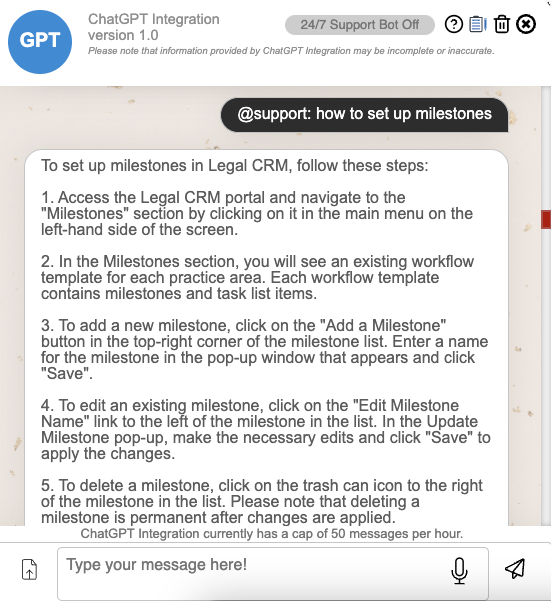 Additional examples to best use the ChatGPT integration!
The best part of ChatGPT is that it can understand things in a question-and-answer format which is like having a conversation.
Here are some examples:
How do I create an e-sign?
How do I create an automation?
How do I send an SMS message to a lead?
How can I create an automation to send an email?
Please draft a reply that is less than 200 words or less to this customer email: "PASTE EMAIL HERE"
Please draft a social media post that is 50 words or less that talks about why you should hire my firm as your immigration attorney to get US citizenship.
Please regenerate your reply but make it shorter.
Please regenerate your reply but make it more compelling.
What are the key provisions of [specific law or regulation] that we need to be aware of?
Can you provide a summary of the legal implications of [specific business decision or action]?
What are the potential risks and liabilities associated with [specific legal issue]?
What are the best practices for drafting [specific legal document]?
Can you provide guidance on how to handle [specific legal situation or scenario]?
What is the current status of [specific legal case or matter]?
Can you help me prepare for the upcoming [specific legal event or proceeding]?
What are the potential consequences of [specific legal action or decision] for our clients?
That's all there is to it. This chat window can be utilized in many ways to help you augment your time using Legal CRM.
Frequently asked questions about ChatGPT
Do I have to be a paying client to use your AI features?
No, you do not have to be a paying client to enjoy our integrated AI ChatGPT feature. This is available for free trials, and all paid tiers.
Do I have to be part of a certain tier to use your AI features?
No, all paid tiers will be able to enjoy our integrated AI ChatGPT features.
Will there be any limits?
Similar to ChatGPT v4's limits, there will be hourly rate limits per company during our initial release of this feature. Currently, this is 80 messages per hour, per user but subject to change.
Does it save responses to go back to review?
Currently, it saves the history for the last 30 messages. You can scroll up to see the history and clear your entire conversation at any time by clicking on the trash can in the top-right of the ChatCPT screen.
Who can view my conversations?
Legal CRM's AI feature leverages the OpenAI API which offers more data privacy than using ChatGPT directly. Law firms and other users that are going directly to ChatGPT and entering sensitive information will have less data privacy than our use case via API because unlike using ChatGPT directly, OpenAI does not use data submitted by customers via their API to train OpenAI models or improve OpenAI's service offering.
Where do you save my personal and conversation data?
OpenAI retains API data for 30 days for abuse and misuse monitoring purposes. A limited number of authorized OpenAI employees, as well as specialized third-party contractors that are subject to confidentiality and security obligations, can access this data solely to investigate and verify suspected abuse. OpenAI may still have content classifiers flag when data is suspected to contain platform abuse. Note that this data policy does not apply to OpenAI's Non-API consumer services like ChatGPT or DALL·E Labs. You can learn more about these policies in their data usage for consumer services FAQ.
Do documents upload directly to ChatGPT? is it stored within Legal CRM at all?
Documents are uploaded directly to Legal CRM, However, to analyze and provide a response for each document, they are passed through the OpenAI API so we defer to the same security policies and disclosures referenced above.
Documents that are uploaded to ChatGPT are not stored within Legal CRM and only live within ChatGPT.
What types of Documents can be uploaded?
Once enabled, can I disable the feature?
To disable the feature please have an admin user go to setup > global settings and toggle off the AI assist option.
Is GPT only accessible from the dashboard? Or is the button still visible anywhere in the platform (on a matter page, kanban board, etc.)?
The GPT feature will exist on every screen in the product. It is everywhere!
Support/Assistance
If you need further assistance with your system, then please contact CRM Support.
🤗 Thank you very much for choosing Legal CRM!