Clio Manage Integration Follow
Law Ruler CRM offers an easy-to-use integration with Clio, a cloud-based case management platform for law firms.


What the 1-Click Law Ruler > Clio Manage integration offers:
Creates new matter in Clio Manage (NOTE: The primary contact in Law Ruler becomes the contact associated with the matter)
Sync notes
Syncs audit log
Syncs custom intake fields (NOTE: This requires mapping your intake in Law Ruler to your corresponding custom Clio fields)
Syncs documents
Quick Links:
Pairing Clio with Law Ruler
Once logged into Law Ruler navigate to Setup > Global Settings and Statuses > CasesSoftware
(Admin access is required to access the Global Settings page)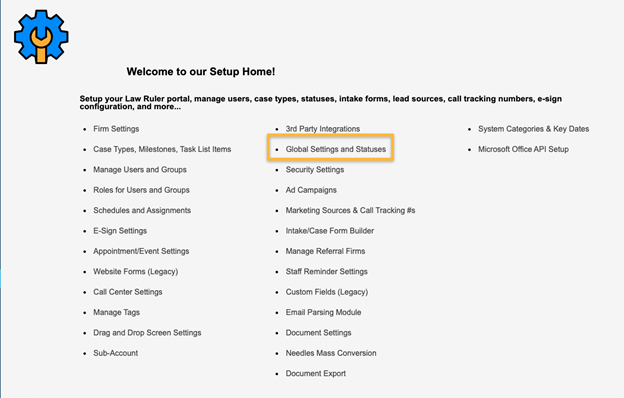 Once in the CasesSoftware section, select "Clio" from the drop-down menu and click "Save".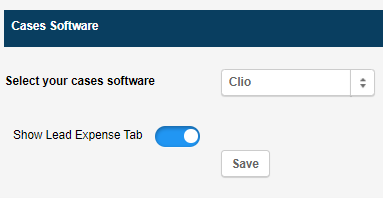 Next, each user will need to pair their individual Law Ruler account with their Clio account. To get started, each user should navigate to User Settings by clicking on their name in the upper-right corner of the screen: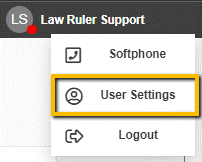 Once in the Pair with Clio section click "Pair with Clio":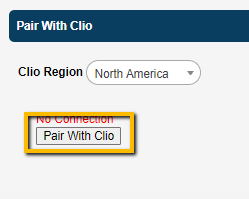 Next, log into your Clio account and authorize Law Ruler to have access to your Clio account:

Your pairing is all set!


Creating a Matter in Clio Manage
Creating a matter in Clio Manage is a very simple process. Once you have an intake/lead record ready to convert to Clio Manage all you need to do is press the "Export to Clio" button located under the Intake Details section.

After pressing the "Export to Clio" button a pop-up will open. You will need to fill in the following fields:
Practice Area: This is a required field
Originating Attorney: This is a required field
Responsible Attorney: This is an optional field
Matter Billing: This is a required field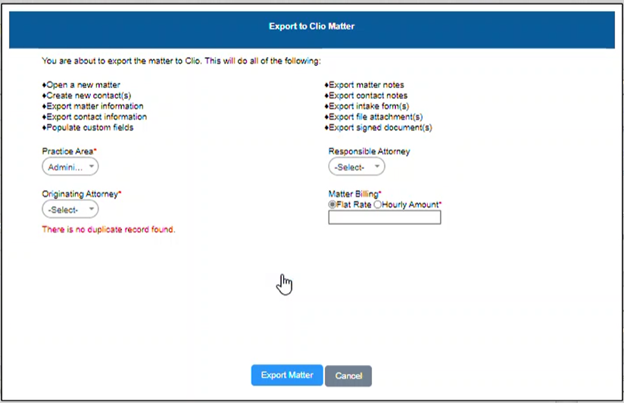 Duplicate Contact Checking
If there are any duplicate contact(s) found they will be displayed in the same pop-up above:
You have the option to convert to Clio Manage using these existing contacts by pressing the checkbox next to the contact name
You can ignore the duplicate contact by leaving the checkboxes blank/empty & pressing "Export Matter"


Your record has now been pushed to Clio Manage!


Intake Mapping
Law Ruler offers an easy-to-use integration to allow you to map any Law Ruler intake field to a corresponding custom field in Clio.
To get started, navigate to Setup -> Intake/Case Form Builder:

Next, choose the case type that correlates to the intake form you will be modifying:

Then, locate the section on the bottom of the left-side panel called Create Question from Clio Field:

Choose the Clio field you would like to create and click Create Field.


You have successfully created a field that is mapped to your custom Clio Field!


Support/Assistance
If you need further assistance, then please contact Law Ruler Support to assist you further.
🤗 Thank you very much for choosing Law Ruler!


Aside from Law Ruler, all other trademarks, trade names, screenshots, or company names referenced herein are used for identification purposes only and are the property of their respective owners.