Lead Conversion Dashboard Report Follow
This report provides an overview of what's happening in the portal with the firm's leads and also the firm's conversion metrics.
Using the main navigation menu on the left-hand side of the screen, click on "Reports".
⚠️ Only users with the Reports user permission will have access to this screen.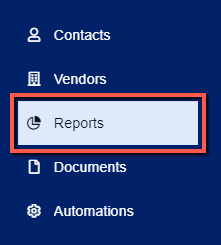 Navigate to the "Lead Conversion Dashboard" page.



At the top of the page, you will be able to select a date range for the report. By default, the selected date range will be "Today", but you can choose from any of the available options in the dropdown or you can manually apply a custom date range using the date fields. Just beneath the date range settings, there will be several filters that can be applied to the report to narrow down the results (case type, user, tags, marketing source, etc.)





After you've made any desired date range and filter selections, you can save the applied criteria if you intend on using the same date range and filters for future reports. To do this, type in a name for the criteria in the "Save this search criteria" field and then click on the "Save" button to the right. Any saved criteria can be selected from the "Make this my default view" dropdown. If you ever need to delete any saved criteria, select it from the dropdown and click on the "Delete" button to the right.





Beneath the filters you will see the reporting metrics. The "Funnel Metrics" show you how many Lead/Case records fall within each Dashboard Category. To learn more about Dashboard Categories, please click here. The "Conversion Metrics" show you the firm's progress in converting leads to clients (Cases). Below the metrics, there will be a bar chart graphically displaying the Funnel Metrics.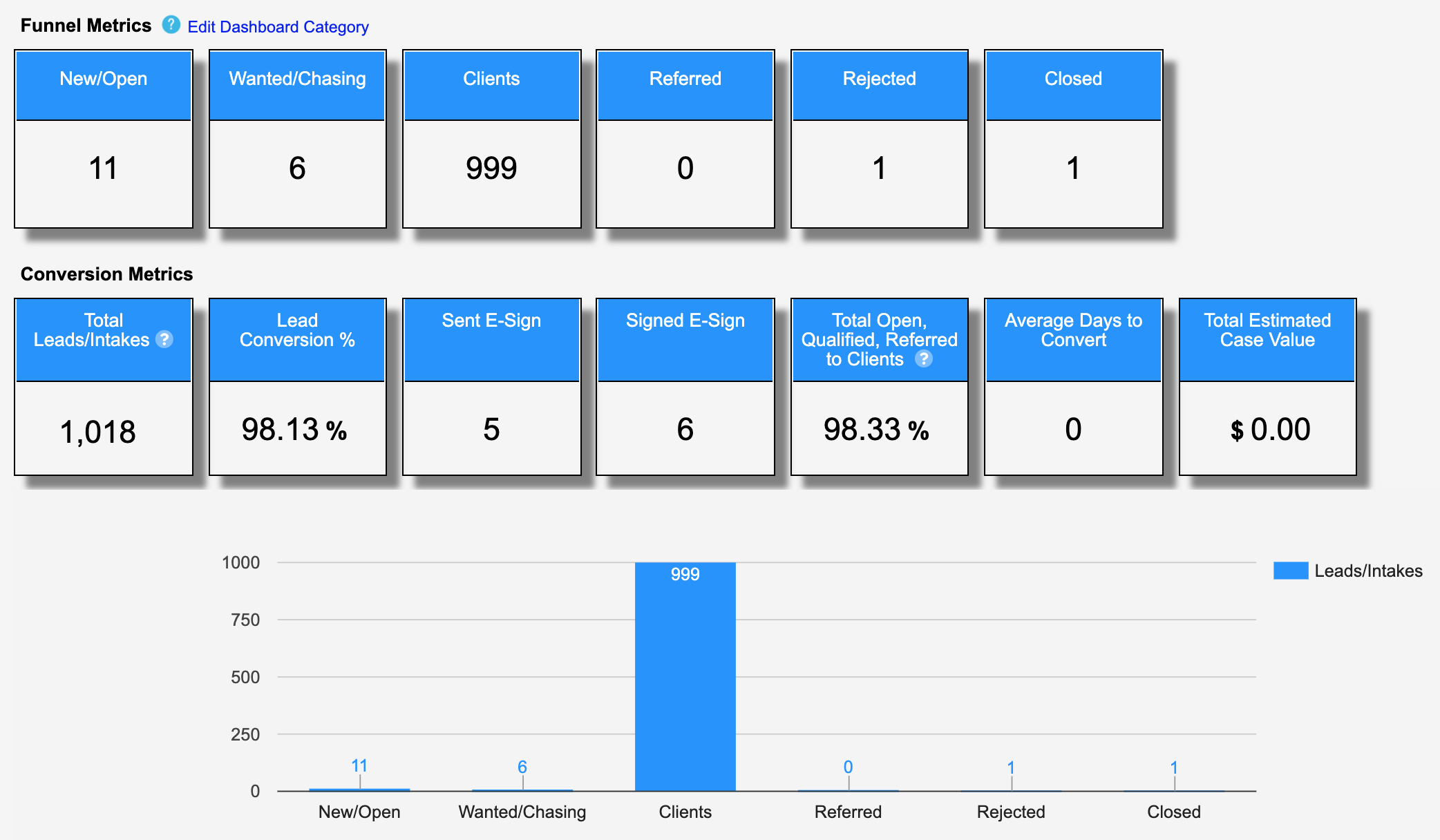 To download this report you will have 2 options: The "Dashboard Charts" button will download a PDF file of the report showing the date range and filters applied, as well as the Conversion Metrics and Funnel Metrics. The "Conversion Statistics" button will download an Excel file of the report displaying the same data but in a spreadsheet format and without the metrics tiles and graph.





If you would like to schedule this report so that it is automatically delivered, click the "Schedule Report" button. In the small pop-up that appears, you will be able to give the report a name, select the delivery frequency, the time of day when the report should be delivered, and enter the email addresses of any individuals who should receive this report. Lastly, click the "Save" button to schedule the report.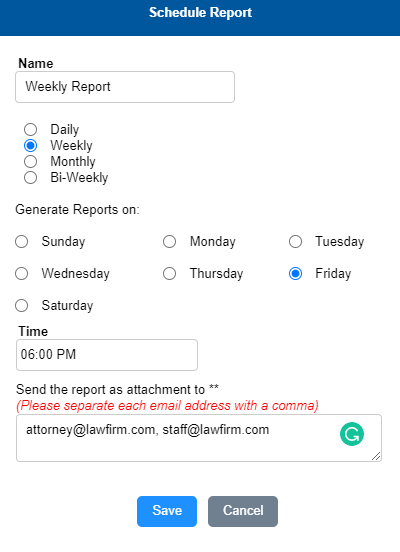 Support/Assistance
If you need further assistance, then please contact Law Ruler Support to assist you further.
🤗 Thank you very much for choosing Law Ruler!