Using the Google/Outlook/Office 365/Exchange E-Mail and Calendar Sync with Legal CRM Follow
👏 📆 ✉️ Legal CRM's email and calendar sync feature are compatible with Google, Microsoft Office 365, and Exchange Versions.
💡Sync your email/calendar now by visiting the sync tutorial
What Type of Calendar Events are Supported in Outlook and Google?
Legal CRM supports Shared Calendars but does not currently support group calendars or recurring events at this time in Outlook, Google, or other calendar syncs.
How Long Does it Take for My Calendar Events to Sync the First Time?
After you sync your Google, Outlook, Exchange, or another calendar with Legal CRM, the sync may be quick but could take up to 24 hours (in some cases, it may only take 1-2 hours, or faster) to sync past calendar events for the first time. After all of your events have been downloaded into Legal CRM, the sync will continue to update every 15-30 minutes. Only past events will take up to 24 hours to sync on the initial sync. The calendar sync will download up to 30 days of past events when your calendar is first synced. For events older than 30 days from the date that you sync, visit your calendar software.
Why can't I see calendars that have been shared with me?
If you cannot see calendars from your 3rd party calendar provider that have been shared with you in Legal CRM, there are a few reasons why this might be happening.
If you use anything other than Outlook for your calendaring, most likely, you have not completed the sharing process in your 3rd party calendaring system. You can confirm this by going to your 3rd party calendaring system and verifying that your shared calendars are not displaying. Whenever a calendar is shared, most 3rd party calendaring systems require the recipient of the shared calendar to accept the invitation to share, which is sometimes overlooked.
If you use Outlook, most likely you are not seeing your shared calendars because you did not choose the manual calendar setup option:

This setup option is required if you wish to see shared Outlook calendars in Legal CRM. To learn more about how to enable this setup, please click here.
Sending Emails in Legal CRM with the Auto-Sync Feature
📧 This will use your firm's email account to send emails out of Legal CRM and is comparable to sending emails directly from Outlook, Exchange, or Google, with some added benefits. When emails are composed and sent from Legal CRM, a copy of those emails will automatically save in the appropriate lead or case in Legal CRM and your sent email folder. The sync will automatically insert a unique number in invisible ink inside each email composed inside of Legal CRM (if your email account is paired with that user account). This unique number allows Legal CRM to automatically pull in and save all replies to your email into the appropriate lead or case. Plus, this allows 2-way sync of your calendar events.
How does it work? You only need to pair your e-mail account with Legal CRM one-time (unless you change your password for your e-mail account, then you will need to sync it again later).
Plus, this allows 2-way sync of your calendars which appear automatically once the sync is activated.
⚠️ You must compose emails in Legal CRM initially, or subsequent replies on an email thread will not automatically sync with the system.
While viewing any lead, intake, or case, to send a new email, you may click on the email icon next to any contact in Legal CRM to open up the "Compose E-mail" screen. Or, you may also press the "Compose E-mail" button in the "Emails" in a lead/case.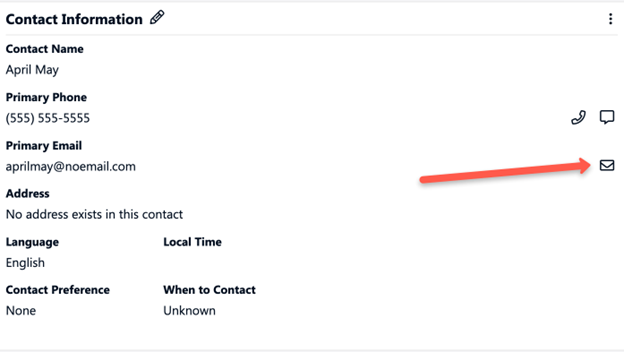 ❌ Need to Opt-Out a Client From Emails? You may opt-out your contacts from emails or text messages at any time by clicking on the red X icon next to each contact in the system.
Sending an email is simple and very user-friendly.
The "Compose E-mail" screen that is shown below allows you a lot of flexibility:
From:

to select from 1 or more synced accounts to send from, click the "From" dropdown. Any paired email accounts for your user account will be displayed.

To:

You may address the email to any recipients. You may click in the "To" field, and the system will show you all of the contacts and users associated with each lead/case.

Cc and Bcc:

You may Cc: or Bcc: any additional recipients as needed.
⌨️ If you would like to manually enter an email address, enter the email and press <Enter> or a comma after each email address to save it to the addressees.
📎 Attaching Documents to Emails: You may add documents from either your local computer/device or from the Legal CRM Document Cloud inside of each Lead/Case. To do this, press the "Attach File" button at the bottom of the "Compose Email" screen.
❗ Importance: You may set each email's importance. This is set to normal by default, but you can use the "Importance" dropdown at the bottom of the "Compose Email" screen to change the level. The available options are Low, Normal, and High.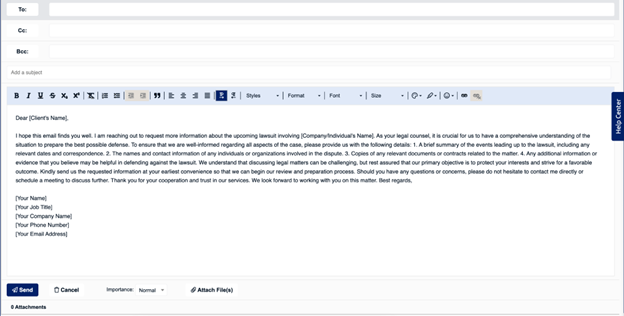 Viewing, Replying, and Forwarding Emails in the Emails Tab
Inside of each lead/intake/case, you may click on the "Emails" tab, located under the Communications menu option, at any time to view the email history of each client record. Any synced emails will save to this tab area. You may click on any of the emails in the "Emails" tab and view, reply, reply-to-all, or forward them, as shown below.

Support/Assistance
If you need further assistance, then please contact Legal CRM Support to assist you further. However, if you have issues with a third-party email/calendar provider, then you must contact their support team, not Legal CRM Support since Legal CRM is only authorized to provide support for their product.
Microsoft Outlook, Office, Exchange, and Google are third-party products, so if they are not set up properly and sync is not possible. Please contact their support or your IT vendor directly since Legal CRM Software LLC is not the author of those software products.
Aside from Legal CRM, all other trademarks, trade names, screenshots, or company names referenced herein are used for identification purposes only and are the property of their respective owners.
🤗 Thank you very much for choosing Legal CRM!