The Registration Process for Sending SMS Messages From Legal CRM Follow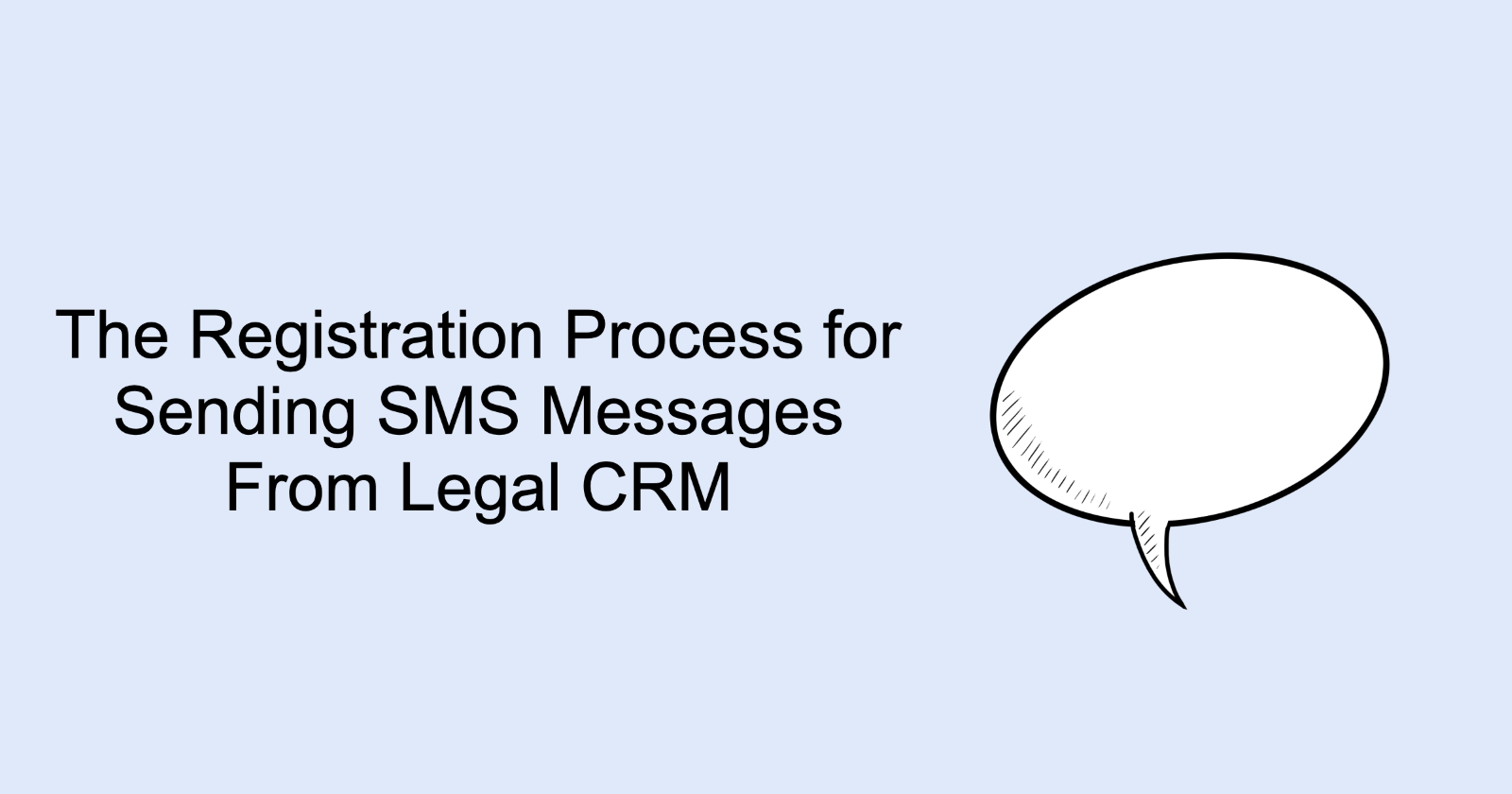 It is important to register your business and portal's primary SMS number for A2P 10 DLC or Toll Free (if applicable), as failure to do so will result in undelivered messages to your current and potential clients.
This new registration requirement was recently implemented by the telecommunications industry and is mandatory for any business in the US that wishes to send text messages using a software application.
Please work directly with your account manager in a timely manner to ensure that your account is fully compliant with these regulations.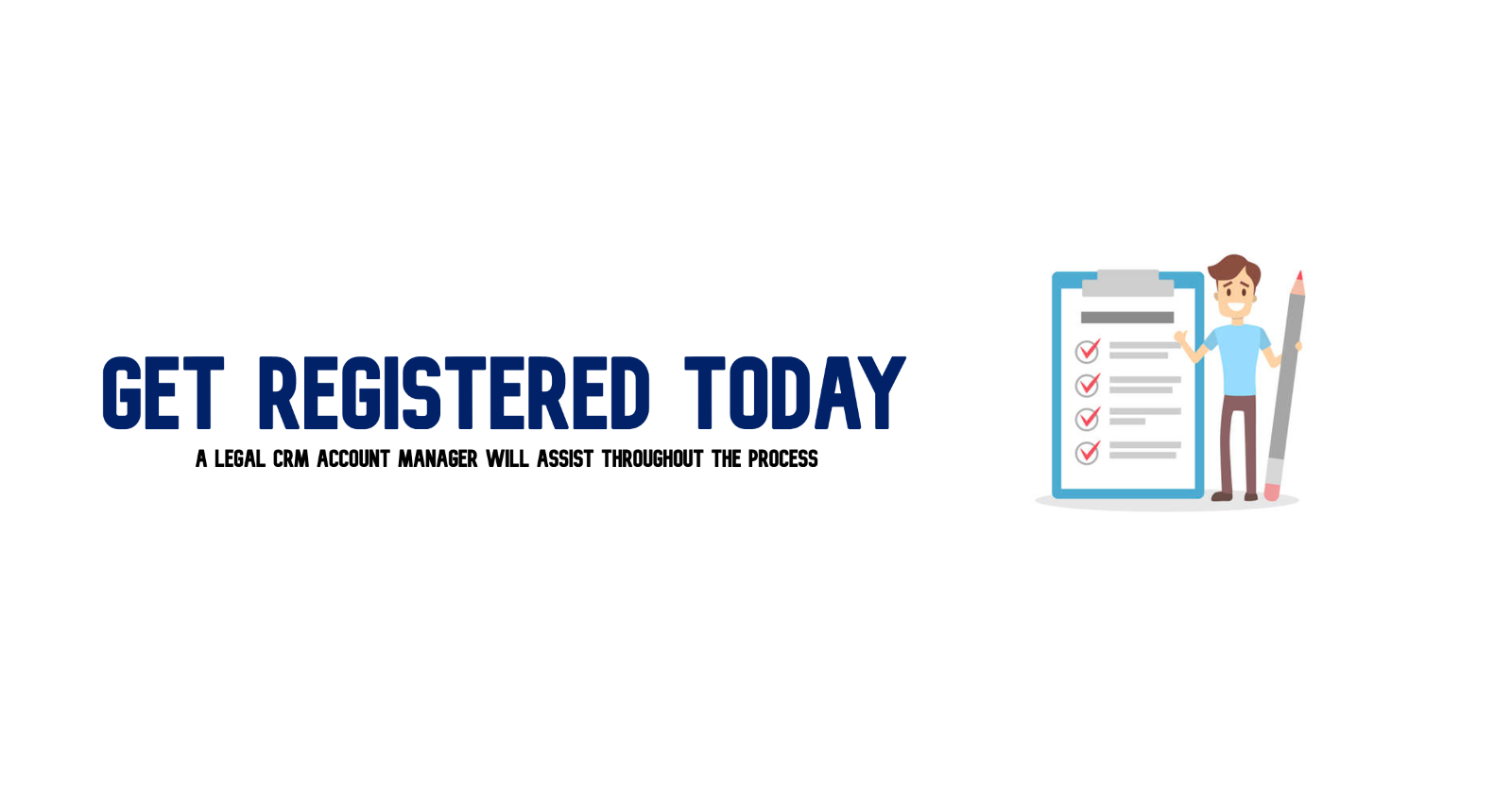 Business profile registration:
Each business is required to have a registered profile with our telecom provider. The information below needs to be provided to your account manager.
Legal Business Name
Business Type
Business Industry
Business Registration ID Type
Business Registration Number
Business Regions of Operations
Website Url
Social Media Profile URL
Authorized Representative #1 & #2

First Name
Last Name
Email
Business Title
Job Position
Phone Number
There is a direct form where this information can be submitted that the account manager can provide.
Business profile approval process: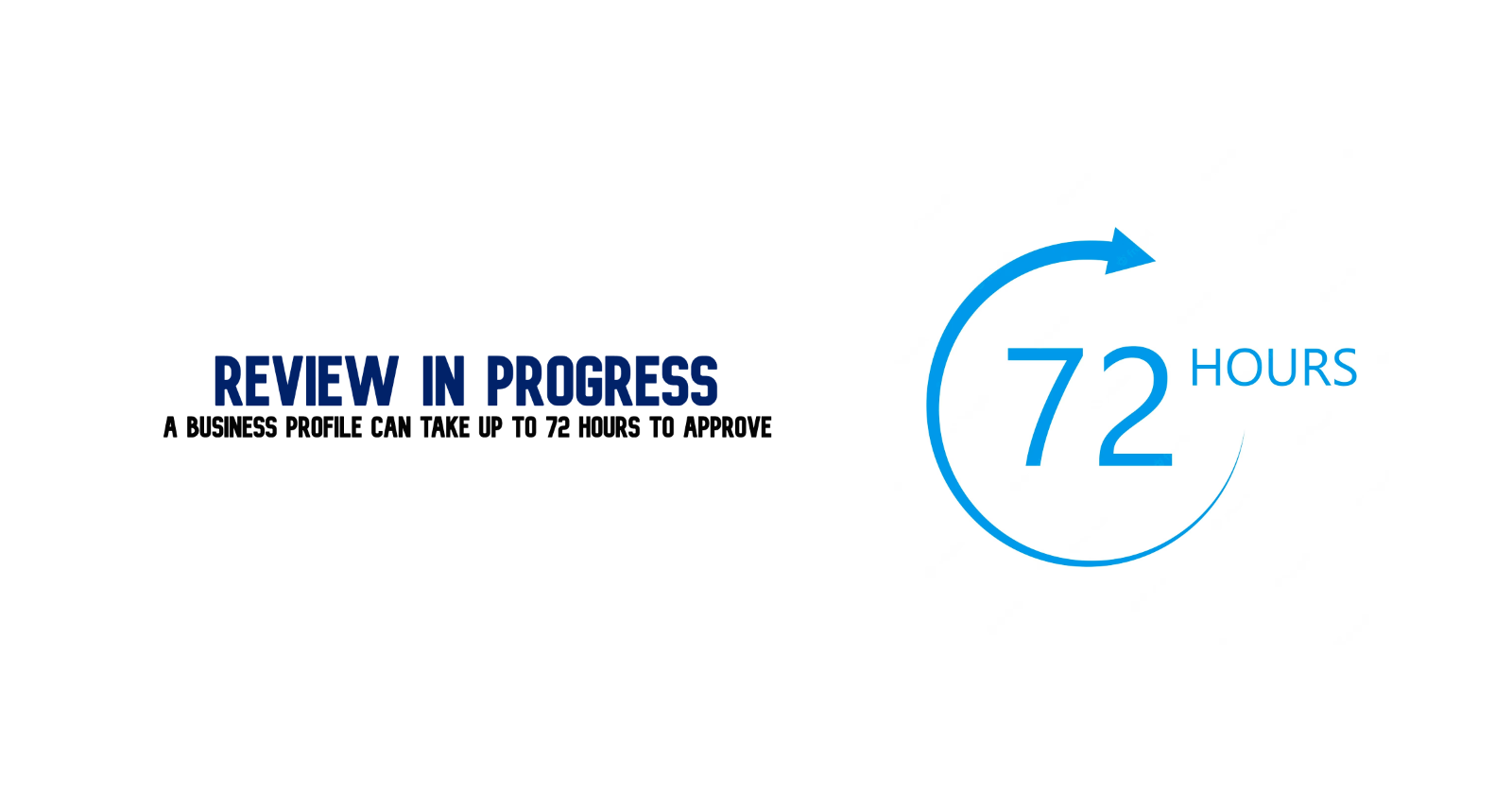 After a Business Profile has been submitted, it is vetted by our telecom provider. This process can take up to 72 hours. Their team will confirm that the supplied business information and then approve or reject the submission. The Legal CRM team will be notified by our provider about the outcome of the vetting process and the status of the Business Profile.
During the vetting process, our telecom provider may reach out to the authorized representatives included in your Business Profiles to confirm your business identity.
Why Business Profiles may be rejected:
A Business Profile submission will be rejected in certain circumstances. For example, we may not be able to validate some of the information included in the Profile if the EIN and entity name do not match exactly. If this occurs with your submission, our Legal CRM customer success team will work with you to get a new profile submitted with updates required by our telecom provider.
A2P 10 DLC Messaging Registration:
Once your profile is approved the Legal CRM team will then be registering your account for A2P 10DLC Messaging.
A2P 10DLC refers to a system in the United States that allows businesses to send Application-to-Person (A2P) type messaging via standard 10-digit long code (10DLC) phone numbers. Carriers in the US consider all Legal CRM SMS traffic to be A2P. Carriers' A2P 10DLC offerings provide better delivery quality and lower filtering risk than long code SMS of the past, using the same phone numbers.
It's very important to note that you cannot send SMS messages until your A2P 10DLC registration is approved. Every carrier requires each business to be fully compliant to communicate with their customers.
The vast changes to the 10DLC vetting processes have created several week delays in the telecom industry.
As of now the current processing time is 2-3 weeks before your A2P account will be reviewed. Our team will work close with the telecom provider to ensure that there is a tight timeline for our customers.
Toll-free messaging:
Is there another way that my business can still send SMS messages during the A2P vetting process?
Yes! Currently your firm can switch to using a Toll-free number to send SMS messages in the time being until your A2P registrations is approved for the local number, OR you can bypass the A2P vetting process entirely by choosing to send your text messages from a Toll-free number.
Please reach out to your Legal CRM account manager for more information or how you can change to a toll-free number.
Toll-free registration:
Switching to a toll-free number also requires a toll-free number registration, but carrier providers will still allow messages to be sent to their customers due to the fact that you're using a toll-free number. Toll free numbers are usually associated with businesses, so the vetting process is less strict.
Once your toll-free number registration is in pending verification status your account will be able to send SMS messages. Toll-free allows for higher volume limits (2,000 daily / 6,000 weekly / 10,000 monthly) and reduces the chances of filtering while waiting for final carrier approval. The final toll-free approval can take up to 8 weeks.
You will need to complete the information for the Messaging Use Case for our team to submit the information for verification.
Estimated monthly volume
Opt-in type
Use case categories
Opt-in workflow image URLS
Use case description
Message content
additional information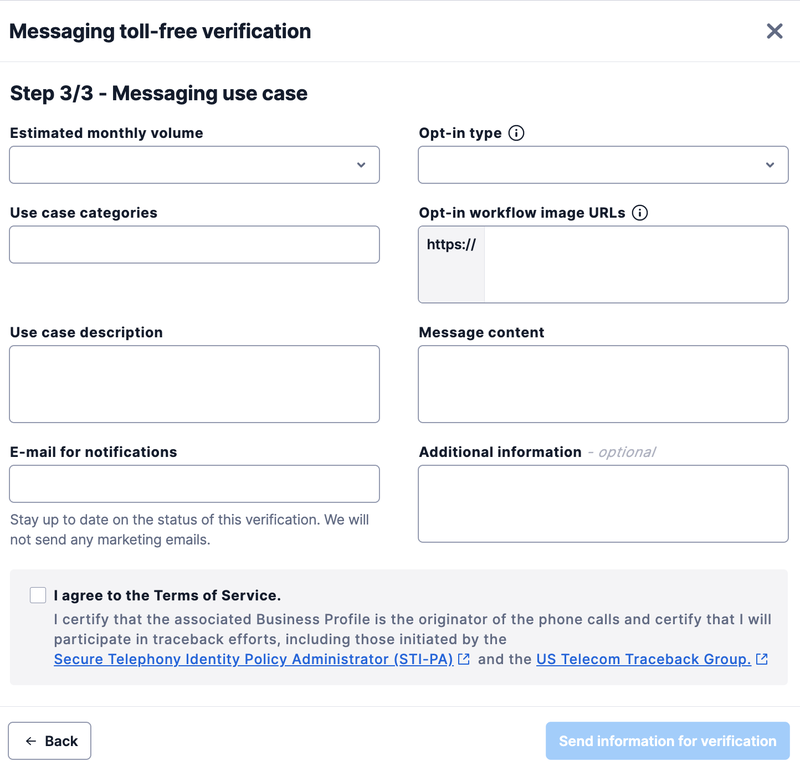 What are the differences between long codes (A2P 10DLC), short codes, and Toll-Free numbers for messaging to US/Canada?
There are three options for SMS and MMS messaging in the US and Canada: long codes, Toll-Free numbers, and short code numbers. Each one has somewhat different registration requirements and characteristics.

The table below provides an overview of the current options for sending SMS and MMS to recipients in the US and Canada.
A note about prohibited use cases
Please note, all messaging sent via Twilio must adhere to Twilio's Messaging Policy. In addition, some use case are not permitted for US (and Canada) messaging, regardless of which type of number and registration framework you choose. These include cannabis-related use cases and third-party lead generation services. For details, see Forbidden Message Categories for SMS and MMS in the US and Canada.
Comparison of long codes, Toll-Free numbers, and short codes for US/Canada
| | | | |
| --- | --- | --- | --- |
| | Long code (A2P 10DLC) | Toll-Free | Short code |
| Format | +1 NNN XXX-XXXX (where NNN is a local area code). | +1 8NN XXX-XXXX where NN is two repeated digits (e.g. +1 855). | 5 or 6 digits (e.g. 12345) |
| Coverage | Can send SMS to any country, SMS guidelines allowing. | Can send SMS to any country, SMS guidelines allowing. | Can send SMS within their own country only.† |
| Voice call capable? | Yes | Yes | No |
| Registration requirements | A2P 10DLC registration | Toll-Free Verification | Short code application |
| Registration restrictions | Requires US EIN or non-US tax ID. Upcoming "Sole Prop" solution will support US/Canada-based individuals without EIN. | Does not require tax ID or business license. See verification requirements. | Company address and website required. |
| SMS filtering profile | A2P 10DLC registration greatly reduces filtering risk. | Verification is required before sending traffic. Verification reduces risk of carrier filtering. | No carrier filtering, as long as you adhere to the use case submitted in your short code application. |
| SMS throughput | Varies based on A2P 10DLC registration "Trust Score" | 3 SMS segments per second by default, but can be increased. | 100 SMS per second by default, but can be increased. |
| MMS capable | Yes, to US/Canada | Yes, to US/Canada | Capable of MMS with a one-time enablement fee (US only) |
| Opt-in/opt-out keywords and blocklist (e.g. STOP/START) handled by carrier outside Twilio? | No | Yes | No |
| Opt-in/opt-out blocklist handled directly by Twilio by default? | Yes | Yes, as well as by carrier – see Opt-out Keyword Handling: SMS Stop Filtering for Toll Free SMS | No |
| Supports Advanced Opt-Out for custom STOP/START/HELP responses and added keywords? | Yes | Yes, but not recommended – may create duplicate messages or blocklist conflicts due to separate carrier handling | Yes |
| Delivery Receipts | Carrier | Handset | Handset |
† To send short code SMS messages in both the US and Canada, you need two different short codes; one in each country.