Seamless Lead Capture: Discover Our Online New Lead Intake Form Feature Follow
In today's fast-paced world, staying on top of your new inquires requires efficiency, and the ability to capitalize on every potential lead. That's where our Online New Lead Intake Form comes into play. In this article, we'll explore how this feature can improve your lead management process, enhance customer relationships, and ultimately boost your bottom line.
The Lead Intake Challenge
Before we delve into the advantages of our Online New Lead Intake Form, let's acknowledge the common challenges faced by businesses in managing and converting leads.
Data Overload: Gathering and organizing lead information from various sources can be overwhelming, leading to data errors and missed opportunities.

Response Time: Delayed response times to new leads can significantly reduce conversion rates, as potential customers may lose interest or turn to competitors.

Tracking and Follow-Up: Without a streamlined system, tracking lead progress and ensuring timely follow-ups becomes a complex task, increasing the likelihood of missed conversion.
Introducing Our Online New Lead Intake Form
Our Online New Lead Intake Form is designed to address these challenges head-on, providing your intake team with a powerful tool to auto capture leads seamlessly. Here's how it works:
Simplified Lead Capture: With our directly integrated form, you can easily capture lead information, including contact details, preferences, and custom field. This ensures accurate and consistent data entry.
Instant Notifications: As soon as a lead submits the new online intake form, your team can receive real-time new lead notifications, allowing for rapid response and increased chances of engagement.
Customized Follow-Up: The form can also trigger an automated follow-up automation tailored to your new lead online form submissions, increasing the likelihood of conversion through personalized communication.
Comprehensive Lead Tracking: Our dashboard/ reports/newsfeed provides a 360-degree view of each lead's journey, allowing you to monitor progress, track interactions, and measure conversion rates all from their initial online form submission.
Benefits of Using Our Online New Lead Intake Form
Improved Efficiency: Say goodbye to manual data entry and complex vendor integration. Our form automates these processes, saving your team valuable time.

Faster Response Times: Real-time from submissions enable swift responses, demonstrating your commitment to potential customers and increasing your chances of converting a potential client.

Enhanced Personalization: Automated tailored follow-up sequences from the online form submissions ensures that leads receive relevant information, fostering a stronger connection and trust.

Higher Conversion Rates: The combination of timely responses and personalized communication significantly boosts your lead conversion rates.

Data-Driven Insights: Our platform provides valuable insights into the lead's activity, enabling data-driven decision-making for your sales and marketing strategies.
How to Generate an Online Intake Form Link:
Navigate to the intake form builder page by going to to setup > Intake/Case Form Builder.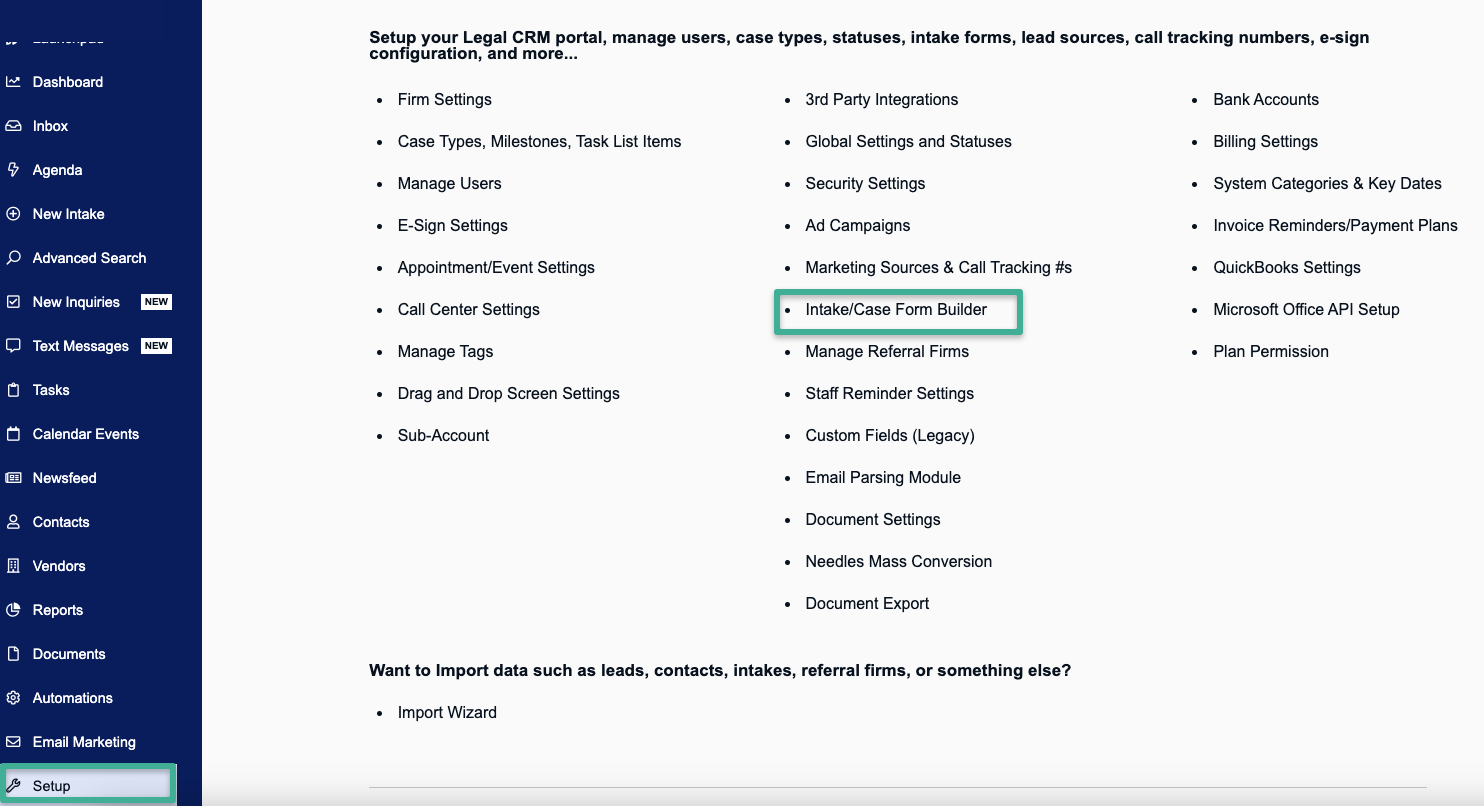 After selecting a case type, please navigate to the "Select an Option" menu.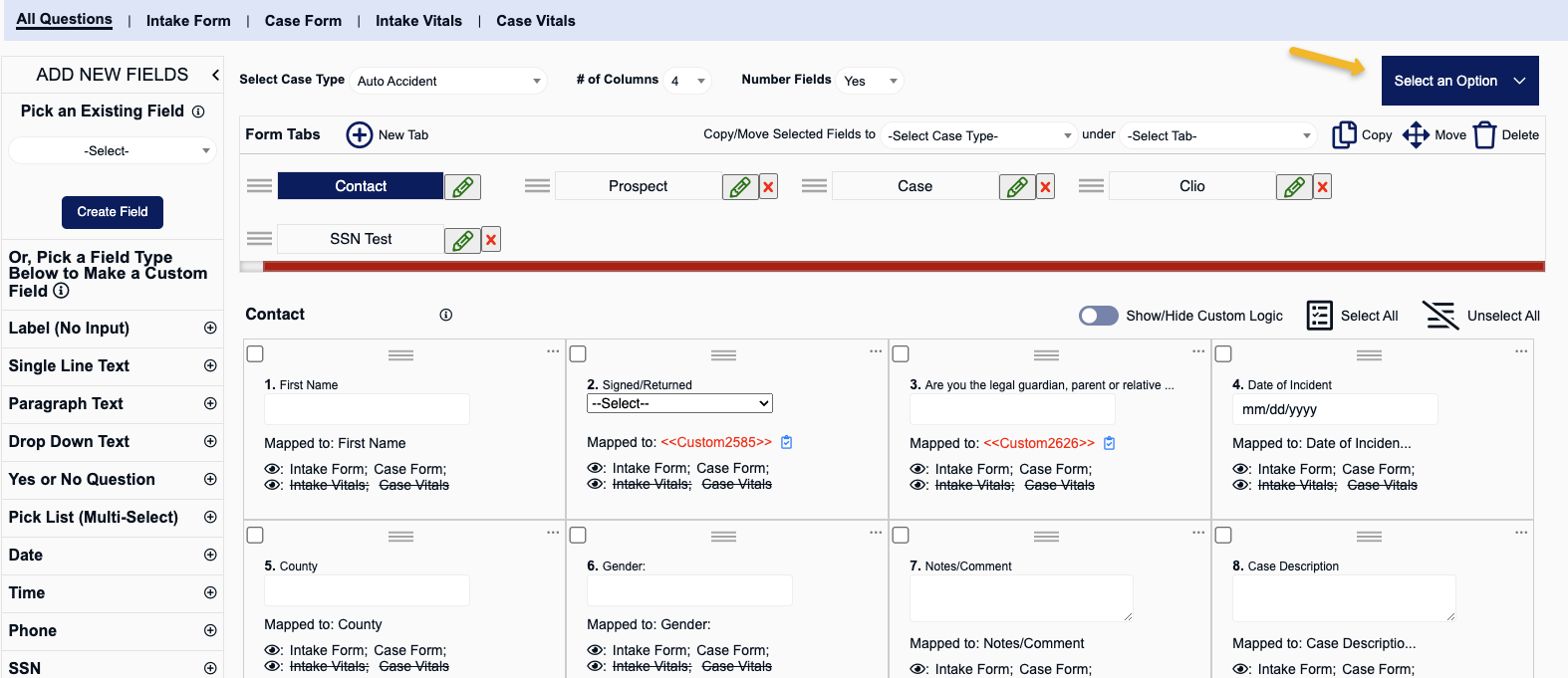 Select "Intake Form URL".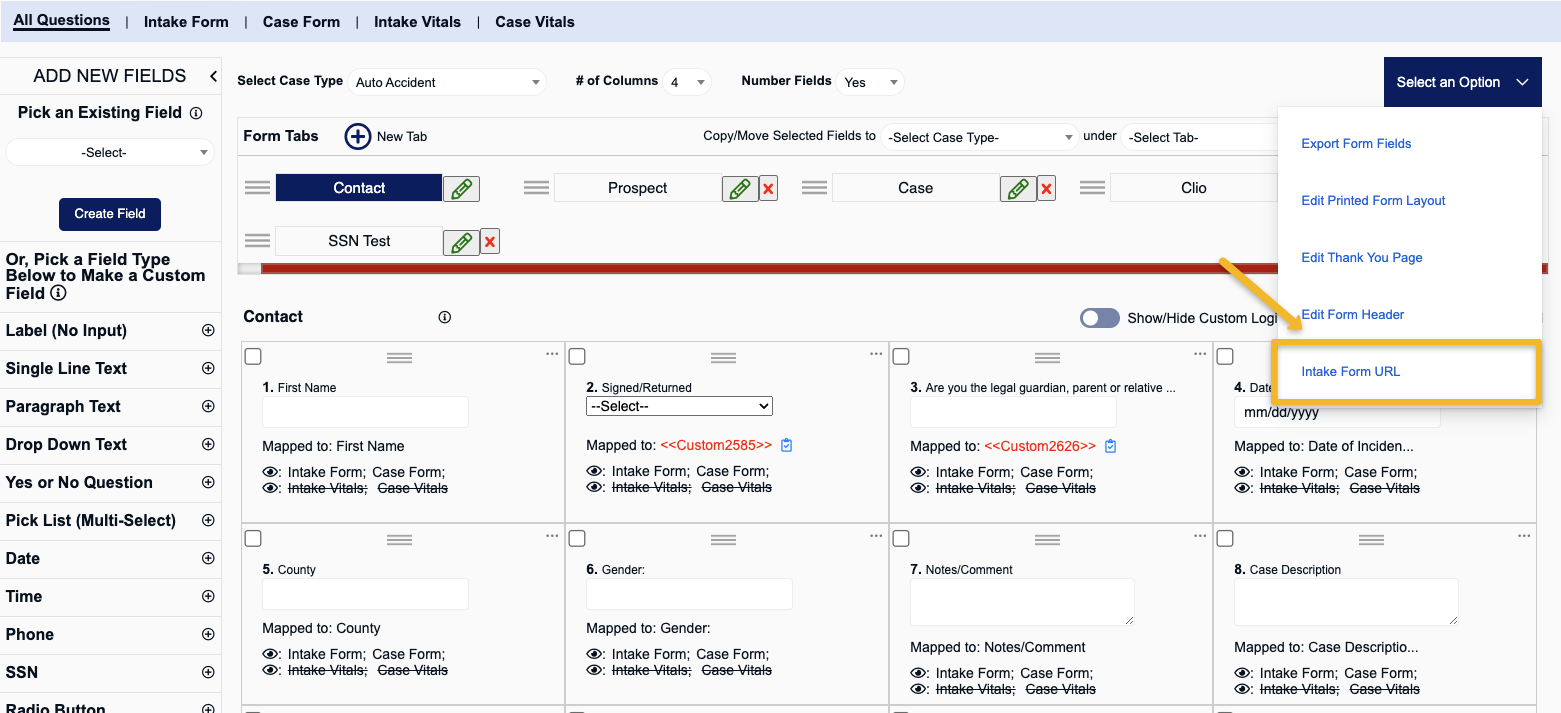 In order to generate the new lead online form link you will need to have "First Name" & "Last Name or "Full Name" inside your All or case type specific intake questionnaire.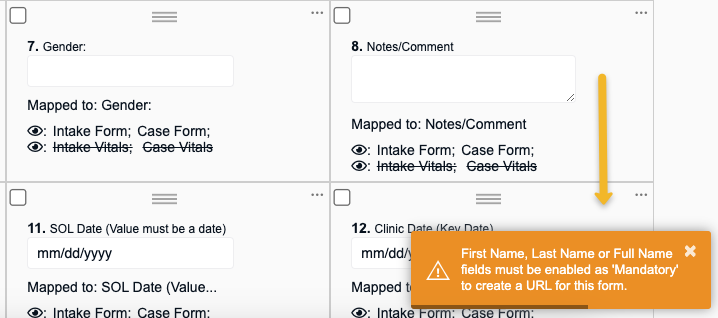 These fields also have to be marked as mandatory fields. This is because in order to create a new lead in the system the name is required.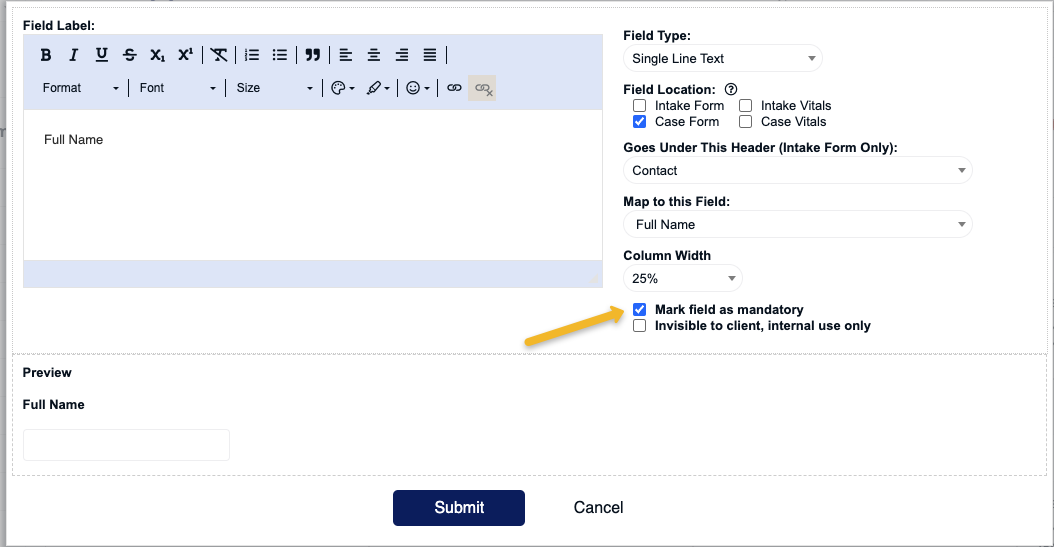 Once the name fields are inside your questionnaire you will see the following settings.
Lead Source & Lead Status are default system detail fields that are required in order for a lead to be created. These will automatically set for every new lead that fills out the online form.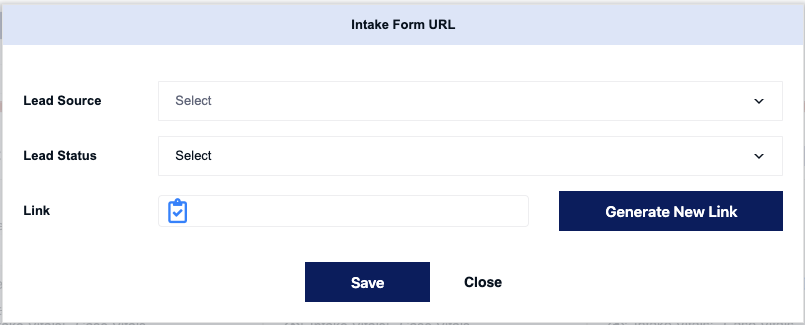 After selecting your source and status, click on "Generate New Link".
The Link field will populate the new lead online form URL. You can click on the clipboard icon to copy the link.
The "Generate New Link" button allows you to update the URL in the event you needed to change/disable the previous link.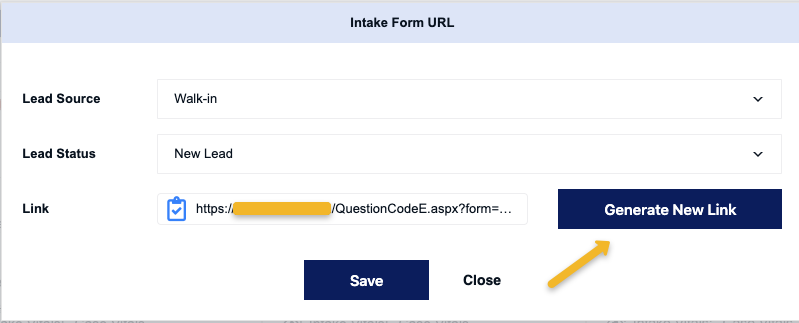 Pressing save will update any changes you made in this popup.

Here is an example of how the online new lead form looks on mobile! Just by accessing the URL any lead/vendor/user can fill out the form with ease!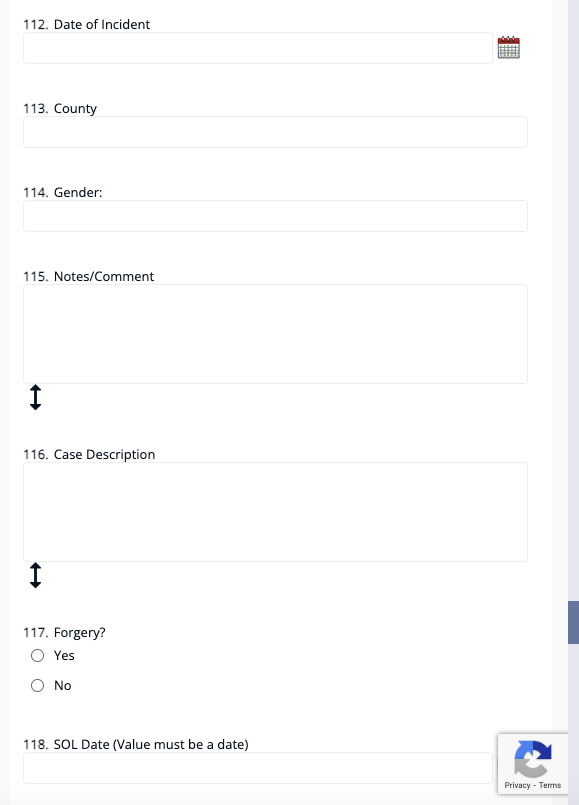 As soon as the form is submitted the lead will automatically create with all the data that was inputted, and your automated firm workflows will start!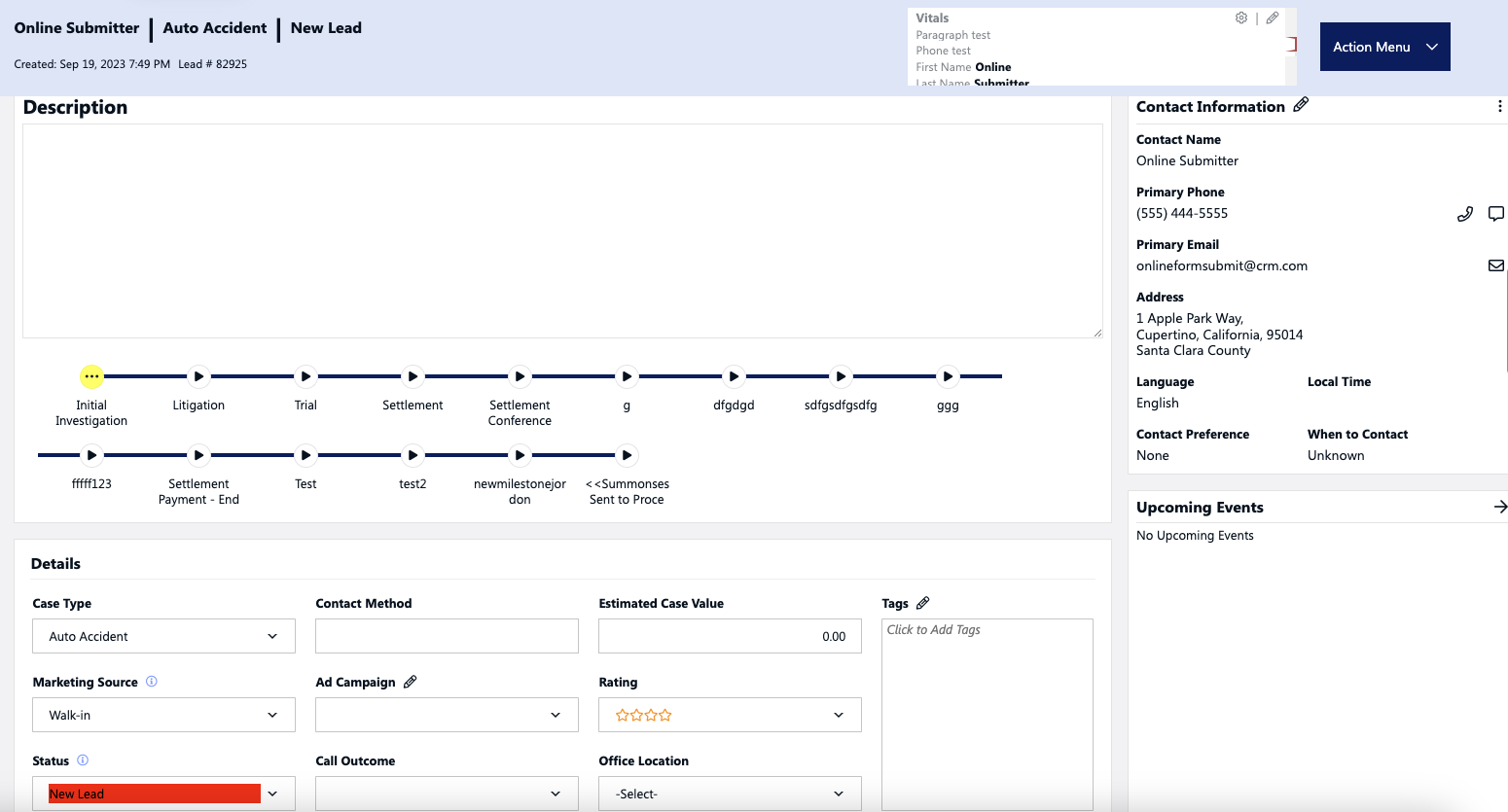 Support/Assistance
If you need further assistance with your Legal CRM system, then please contact Legal CRM Support.
🤗 Thank you very much for choosing Legal CRM!